The 3S Group's electronic newspaper editor has a complex information structure, flexible presentation model, core functions that meet almost all the features a modern electronic newspaper needs, with necessary modularization, features that are ready to be expanded, upgraded in functionality, will surely meet the needs of expanding the development of the host entity, and the growth of the number of readers. in every moment.
Purpose
Supplying to customers who are press agencies, magazine pages, businesses and corporations want to build a professional news website, aiming at the goal of sustainable development, attracting a large number of readers, Business requirements and high stability of the news site.
Technical Foundation
- Open software architecture Easy to develop future upgrade expansion, flexibility in communication and interaction. The ability to share data smoothly and simply.
- Component-oriented construction architecture: The portal must include many interactive modules, easy compatibility. Additional modules can be added as needed.
- Building on an e-newspaper editorial model: Easily manage the number of articles per reporter, editor, Information publishing process that meets the professional requirements of the editorial office.
Major
In order to ensure the fastest information, the drafting staff sends information and images to the Editorial Team. The editorial team will proceed to edit and submit to the Editor-in-chief before being officially published to the Journal;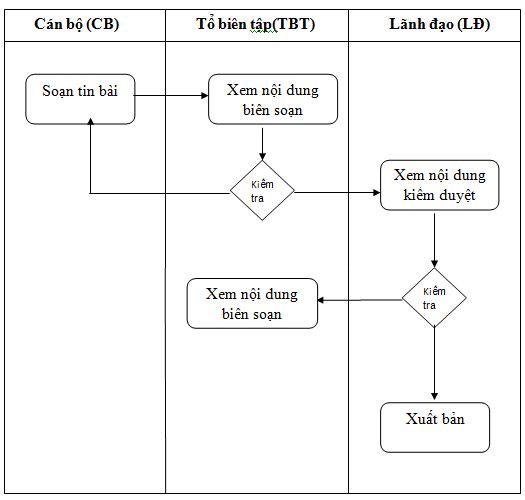 Basic function
Functional requirements of the website is a list of minimum functions necessary for the website to achieve the above objectives, including:
a, Management portal and information page
- Administration of homepage and pages.
- Administration of functional modules.
- Configuration management
b, MultiSite Management
- The solution allows the host unit to create many sub-websites in the big website system, each sub-website can completely design each separate display interface, flexible information layout, and decentralized mechanism. independently for many people in charge on each of these subpages, easily developing multiple sites on a unified system.
c, Information search function
- Search by page.
- Search the entire system.
- Advanced search.
d, Administration of users
- Administration of users (By department)
- Author management
- Decentralization of functions
- Decentralized roles
- The process of publishing news articles
e, Backup and restore data
- Mechanism to periodically back up data, and restore the system by version when something goes wrong.
f, Logbook
- The system log keeps track of all activities taking place.
- Interaction between Reporters
g, Safety, security portal
- Provides authentication mechanisms, access permissions, encryption of exchanged information ...
h, Content management and editing (CMS)
- Editor.
- Censorship.
- Publish.
- Managing news categories.
- Decentralized editorial
i, Post management
- Post management
- Managing the Publishing Process
- Filter articles by category
- Compiling articles
- Messages embedded in posts
- Related news
- Tag
- Manage article topics
- Media processing
k, Royalty system
- Statistics of the number of articles with royalties according to each specific reporter.
- Statistics of the number of reporters participating in an article and the amount of royalties to be scored.
- Print the report
l, Online exchanges / Online FAQs
- Online question and answer function.
- Email.
m, Internal messages
- Incoming message
- Message sent
n, Information gathering
- Detach information from other systems
- Collect pine
o, Submit articles to the newsroom
- The system allows the host unit to build a function that allows readers to submit contributions
p, Display information by device type
- Provides the ability to automatically display information according to different types of devices such as PDAs, Pocket PCs, PCs, complying with HTML v4.01, XHTML v1.1, XSL v1.1 and WML 2.0.
q, Advertising management system
- Customizable size
- Format customization (GDN, Add Code, Flash, .swf, jpg ...)
- There are links, img, title
- Customizable display settings, according to each Module: Home, Search, news ..
- Customizable to add locations, can run in the form of GDN, fixed, or add code
- Customizable display settings for each item
- Having measure the number of clicks, display, can interfere with the data, export to the statistical file
- There are fixed locations defined. In these locations, baner can be added (shown below or shared)
r, Provide information service channels
- Link.
- Electronic phonebook
- FAQ
s, Audio, photo, video manager
- Gallery Photos
- Manage videos
- Sound management
t, Comment management system
Typical units using electronic newspaper solution designed and built by 3S Group:
- Consular Department of Ministry of Foreign Affairs
- Forber Vietnam Magazine
- Hung Yen Television
- Nam Dinh Television Station
- Son La Television
All contact information:
Project: 0983 98 65 98 (Mr. Cuong) - Email: hungcuong@3sgroup.vn - YM: kd_3sgroup