Groups and Corporations are aware that the Website is a brand and a center to direct the business and production activities of the Group and Corporation on the internet.
You are in need of website design for your corporation , or corporation. But you don't know which partner to choose from among the many online businesses.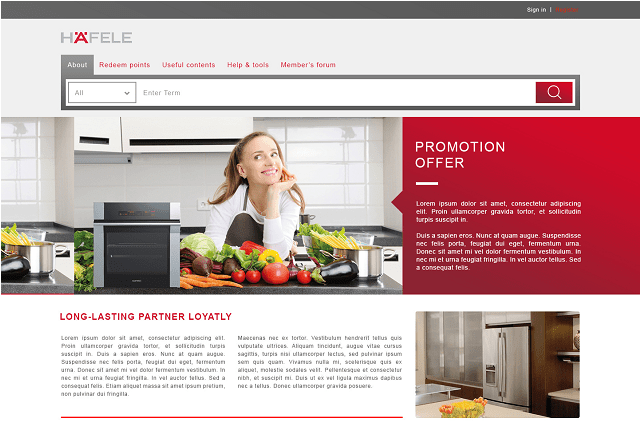 Hafele uses a corporate website design developed by 3SSOFT
3SSOFT will consult to build corporations, corporations a website to achieve modernity, a scale worthy of the model of corporations and corporations. A corporation website, corporation website must have high aesthetics, beautiful and luxurious design and eye-catching to attract viewers. But not yet, a corporation website with the ever-changing scale of growth over time, the ownership of an ordinary website is not good, therefore 3SSOFT will apply the 3S Portal solution to build and design. website design for corporations and corporations in Vietnam.
Website of a corporation or corporation is not simply a website, it is a technology that allows users to create websites that they want, expanding over time when the group needs to expand industries. other goods. That's when our open system meets this need.
Viettel High-tech Industry Corporation uses a website design developed by 3SSOFT
In addition, According to the needs of each Group and Corporation; Corporations and corporations' websites will be integrated with internal website system for the company's business activities.
Website design stages of corporations and corporations include:
- Source code has been designed according to Google standards
- Rewrite Url (optimize friendly links with search engines)
- Support website promotion
- The interface is professionally designed and class.
- Library of rich and unlimited functions, enabling customers to expand later.
- Instructions, information management support
- Designed according to international standards (Validate HTML and CSS)
- Using technology 3S Portal to create dynamic sites, create subsite by subdomains, separate domain or subsite access according to directory structure.
- Dynamic module management and integration
- Flexible interface changes
- Unlimited expansion system
- Internal integrated portal system that can integrate many programs and applications: document management, project management, work schedule management .... through which employees of the corporation and corporation can access only one website address of the Group and corporation to access.
- It is important that the security standards required by the Company as well as the internal security standards: Authentication management, Control of input data, control of output data, authentication management using algorithms Hash from SHA-256, SHA-512, SHA-3 and similar algorithms. Add random salt string after the password string before doing the hash ....
Typical customers we consult and build:
- LILAMA Vietnam Machinery Installation Corporation: www.lilama.com.vn
- Geleximco Group - http://www.geleximco.vn/
- PH Group - http://phinvest.vn/
- German Hafele Group - https://www.hafele.com.vn/en/home/
- HudLand Real Estate Company - http://hudland.com.vn/
- LICOGI 13 Joint Stock Company - http://licogi13.com.vn/
- An Binh Star Joint Stock Company - http://abstar.vn/
- Bao Minh Investment Joint Stock Company GROUP - http://baominhgroup.com.vn/
- Bao Son Group - http://www.baosonhotels.com/
- IMC Group - http://imc.net.vn
- Thai Hung Group - www.thaihung.vn
- Viettel High-tech Industrial Corporation
- ....
Please contact us for advice.
Sales and Project Department:
0983 98 65 98 (Mr. Cuong) - Email: hungcuong@3ssoft.vn