Online television - webcast, which can be interpreted as broadcasting on the internet, through the websites of Radio.
Local Television Stations using Live (live) mode: Stream live broadcasts of the current TV channel or ongoing events. To do so requires a real-time encoder, receives signals from cameras or sources such as Video mixer, mobile TV, radio signal output ... and pushes encoded information on the network media server.
Along with the strong development of current handheld devices such as smartphones or tablets, broadband internet systems as well as 3G connectivity are gradually opening new doors for the television industry. Through the application on the website of the broadcaster, users can easily watch TV anywhere on mobile devices.
With the development of internet-based services, broadcasters will get huge benefits such as: Increasing the number of viewers, not only limited in size of local people like the previous transmission method. On a global scale, many other complementary services can be deployed, such as direct interaction between audiences and TV shows.
On the audience side, when watching TV programs on the Internet infrastructure will have the advantages: Watch any program you like at any time, interact directly with TV stations, watch TV at any where, with internet or 3G.
CONNECTIVE MODEL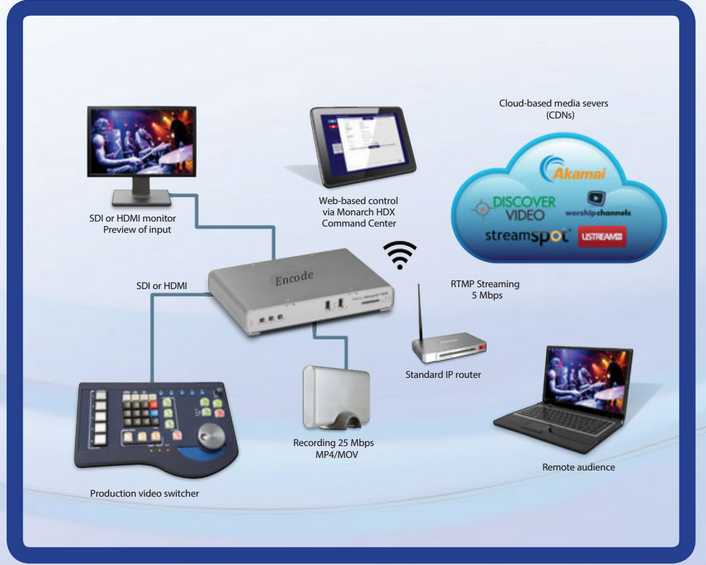 Connection model of Online TV solution consulted and built by 3SSOFT
SOLUTION DESCRIPTION
The solution includes a dedicated device that supports Encode (encryption) for videostreaming, OTT applications ... designed for video program production units that need to be uploaded directly to the Internet, while recording video. sue.
With HDMI or SDI signals from camera output, video mixer or other devices, Encode will encode H.264 data streams according to RTMP or RTSP protocol, compatible with most existing media servers. on the market. It also supports the ability to record streaming programs simultaneously to a memory card, USB drive or network drive in high quality MP4 or MOV format. Users can control Encode very easily through workstations, laptops or mobile devices with web browsers.
Television stations, content-making units on the web - Portal, electronic newspaper, network TV channels ... easily integrate the solution into existing equipment systems such as general control equipment, studio ... to put the signal directly on the web, and record the program with a higher quality level for later editing.
Some customers have been consulted and implemented by 3S GROUP:
- - Hung Yen Radio - Television
- Ha Giang Radio - Television Station
- Tuyen Quang Radio and Television
- Son La Radio - Television Station
- Lao Cai Radio - Television Station
- Nam Dinh Radio - Television Station
Contact us for advice.
In charge of Project: 0983 98 65 98 (Mr. Cuong) - Email: hungcuong@3sgroup.vn - YM: kd_3sgroup